What is Periodontal Abscess and What Causes It?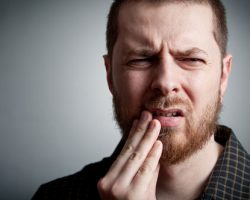 An abscess is a pus-filled pocket that can occur in different areas of your body. The abscess that forms on your gum is also known as a periodontal abscess and tends to be very painful. The leading cause of this abscess is infection and accumulation of bacteria in your mouth. Some gum abscess symptoms include sensitivity to cold and hot foods, loose teeth, pus discharge, fever, and pain when chewing food.


Poor Oral Hygiene

Poor oral hygiene, such as lack of brushing and flossing your teeth, can cause abscess formation. When bacteria buildups in your mouth, they will infect nearby tissue and cause inflammation. If the infection is not treated early enough, it will accumulate pus in the gums and cause an abscess.


Tooth Decay

Tooth decay is caused by acid erosion produced by bacteria or plaque. If you don't extract the decayed tooth in time it will lead to other problems. Collection of pus can occur on your gums or teeth.


Gum Disease

An abscess can form when you have severe gum disease. The condition causes your gums to pull away from the teeth. The process leaves some deep pockets on your gums that facilitate the growth of bacteria. If tartar grows on these pockets or accumulation of food occurs, pus may form. If there is no allowance for the pus to drain, it will form an abscess.


Impacted Wisdom Teeth

When you have impacted, brushing and flossing your teeth can be problematic. Such teeth are pretty susceptible to gum disease and tooth decay. Accumulation of bacteria and tartar buildup will lead to gum abscess formation.

A periodontal abscess is very painful and will require a dentist to drain the pus. The dentist will also address the cause of the problem. Tooth extraction will be a crucial treatment modality if you have tooth decay.