Dental Consequences of Periodontal Disease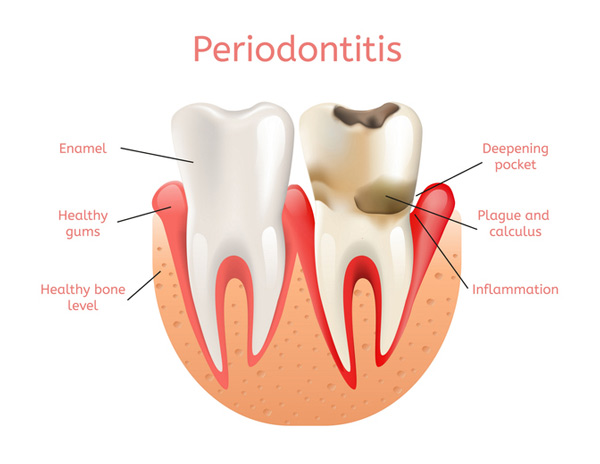 Periodontal disease can have devastating effects on your dental health, which is why good oral hygiene is so important. These effects can be both short-term and long-term and they can require a wide variety of treatments ranging from simple antibiotics to invasive surgeries. The earlier you get your treatment, the easier the whole process will be. At Glen Perio, we can educate you on the consequences of periodontal disease and provide treatment before you reach the more advanced stages.


Short-Term Consequences

In general, the short-term consequences of periodontal disease are more bothersome than life-changing. One of the first symptoms you will notice is pain and tenderness in the gums. You may also experience bleeding and occasional bad breath. This will hinder your ability to eat properly, meaning that your nutritional intake will likely not be sufficient. In addition, you may also experience a loss of self-esteem due to aesthetic changes and the bad breath.


Long-Term Consequences

In the long-term, periodontal disease can have serious detrimental effects on your dental structure and health condition. Once this disease progresses past gingivitis, it is no longer reversible. This means that you will need ongoing deep cleaning treatment. Non-surgical treatment includes scaling and root planing, which must be done every three to four months, rather than the typical six months in between routine cleanings. In addition, we will likely prescribe antibiotics.

Periodontal disease can, in later stages, attack the bone structure in your mouth. You could lose teeth and surrounding bone tissue. Not only would this cause the need for tooth extraction and dental restoration (ex. crowns), but it would also cause changes in the look and function of your mouth. Soft tissue will start to sink in since there will be no bone structure to hold it up. You will also notice that it is more difficult to eat and speak.

In advanced periodontal disease, surgical intervention may be required to restore your mouth to full look and function. For instance, you may need to have flap surgery (gum surgery) to clean the bacteria pockets that have formed in your gums. You may also need grafts or tissue regeneration treatments to replace tissue that has been eroded by the bacteria.


Dental Restorations

Teeth that are damaged or infected extensively will need to be removed. Failing to remove these teeth will lead to more serious infections, pain, and long-term health consequences. When you lose teeth, you lose the functioning needed for eating and speaking. Of course, you can choose to leave the empty space where the tooth used to be. However, this may be difficult to adapt to and may also cause the tissue sinking mentioned earlier.

So, periodontal disease that has led to tooth loss will also indirectly lead to the need for dental restorations. This includes dentures, crowns, and bridges. Though these are fairly simple procedures, they will cost money and require a recovery period. Routine cleanings and early treatment of periodontal disease will prevent the need for these extensive procedures. Call Glen Perio at 224-488-3392 for more information on the effects that periodontal disease can have on your health.