Dental Implants and Overdentures

Glenview, IL


Dental Implants Are Natural Replacements For Missing Teeth. Our doctors are dental implants experts having placed thousands over the course of their careers. With extensive training in specialized dental implant procedures such as immediate placement, implant-supported bridges and dentures, and bone regeneration (to prepare an area for dental implants), our team at Glen Perio is the best choice for your implant care. Here, we make dental implants look like beautiful, natural teeth.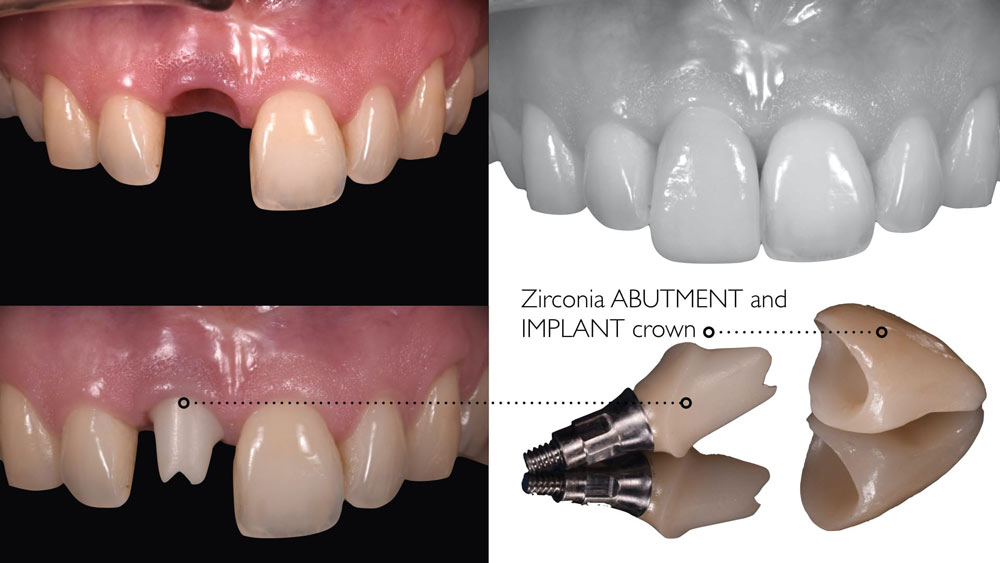 Problems
| | |
| --- | --- |
| • | Missing one or many teeth |
| • | Reduced ability to chew and enjoy favorite food |
| • | Esthetic and social impact |
Benefits
| | |
| --- | --- |
| • | Fixed and reliable long-term dental implant-born crowns and bridges |
| • | Healthier lifestyle and better nutrition |
| • | Esthetic improvements not just limited to the new beautiful smile itself, but also a more youthful appearance by providing facial soft tissue a proper support and contours |
Technology & Materials
| | |
| --- | --- |
| • | Cone Beam Computer Tomography CBCT |
| • | Virtual treatment planning and guided dental implant placement |
| • | Immediate implant placement on the day of the tooth removal and immediate temporary crowns and bridges to avoid any removable dentures |
Useful Pearl

Despite dental implants rapidly becoming "a commodity," there are a lot of variables that can affect the biological and esthetic success of a particular clinical case. Proper diagnosis and clinical experience are the key elements for a favorable outcome.


Replacing Several Missing Teeth With Dental Implants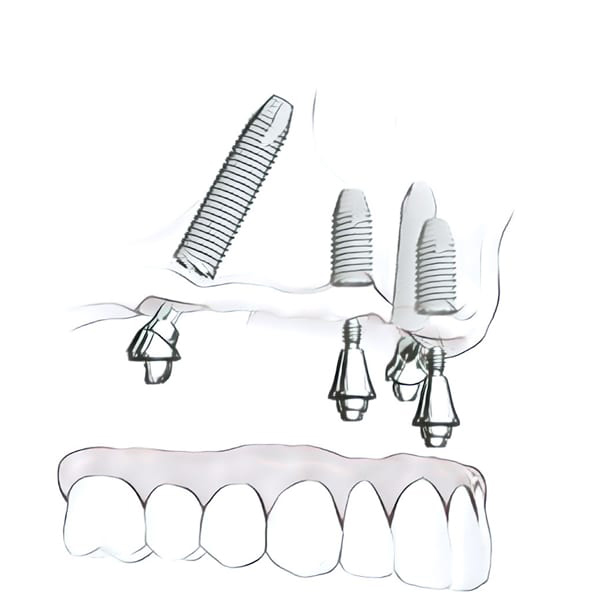 Traditionally, several missing teeth would have been replaced with a removable partial, full denture or full bridge.
Dentures have to be taken out and soaked at night. They can also look unnatural and rub painfully. Dentures and partials make it difficult or impossible to eat certain foods.
Dental implants can now be used to anchor partial and full dentures. This prevents the slipping, irritation, and pain associated with "floating" partials and dentures. It also prevents the tedious removal of dentures for overnight soaking and cleaning. Dental implants also eliminate the need for dental adhesives. This allows you to enjoy eating the foods you previously avoided. With dental implants, your partials or dentures are firmly anchored to the jawbone, causing them to feel much more like natural teeth.
Natural tooth roots and dental implants are fixed firmly in your jawbone. When you chew, these tooth roots and posts stimulate the jawbone and prevent it from shrinking. You may have seen a person who looked prematurely old because their jawbone had shrunk after wearing floating dentures. Dental implants help to preserve the jawbone and appearance.
Implant Overdentures
Regular dentures rest on the gums, which can sometimes result in problems if the dentures don't stay securely in place while talking or eating. These problems can be avoided by using an implant-supported denture or dentures over implants system.
This treatment includes overdentures that attach to implant posts and can be designed to be bar-retained (a thin metal bar designed to follow the shape of the jaw) or ball-retained (ball-shaped attachments that fit into sockets). The dentures should be removed daily for cleaning, and you shouldn't sleep with the dentures in place at night.