Functional Crown Lengthening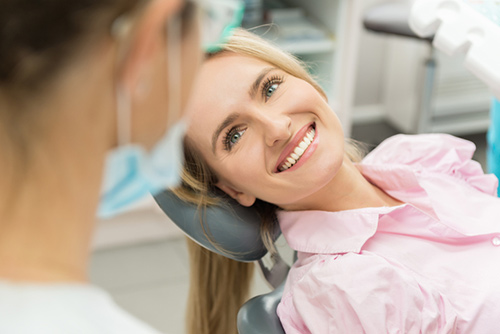 Functional crown lengthening may be necessary with certain dental treatments or can be used to improve the appearance of your smile.

The aesthetics of a smile are shaped by the balance of the gumline with the visible portion of each tooth. Crown lengthening can balance a smile, prevent further tooth decay, or save a tooth from extraction.


Problems
| | |
| --- | --- |
| • | When tooth decay is present deep under the gumline, then it can lead to tooth loss |
| • | Irregular gum levels can have a negative impact on the appearance of the smile |
| • | A "gummy smile" makes the teeth look short and disproportioned |
Benefits
| | |
| --- | --- |
| • | Both functional and aesthetic benefits can be achieved with a crown lengthening treatment |
| • | If this treatment is needed due to tooth decay, then crown lengthening might be necessary to avoid loss of that tooth |
| • | The overall appearance of the smile can be greatly enhanced by improving the proportion of the teeth and gums to match the patient's facial features |
Useful Pearl

Functional crown lengthening is often used in conjunction with other dental treatments. For example, this service can lay the foundation for cosmetic or restorative dentistry services in the future.


Further Information On Crown Lengthening & Crown Extensions

The "crown" is the visible portion of the tooth that sits above the gumline. When a tooth is badly decayed, worn, or fractured below the gumline, then lengthening the crown involves treatment that changes the bone and gum levels so more of the tooth can be accessed for restoration. This integrated treatment can be used for crown placement or other cosmetic treatments.

Sometimes, crown lengthening is desired to improve the overall appearance of the smile. For example, patients with "gummy smiles" or irregularities with the shape and size of their gums can benefit by restructuring the proportion of gums and teeth. As a result, confidence is increased, and you will feel good sharing your beautiful smile with everyone you meet.