Implant Supported Denture

Glenview, IL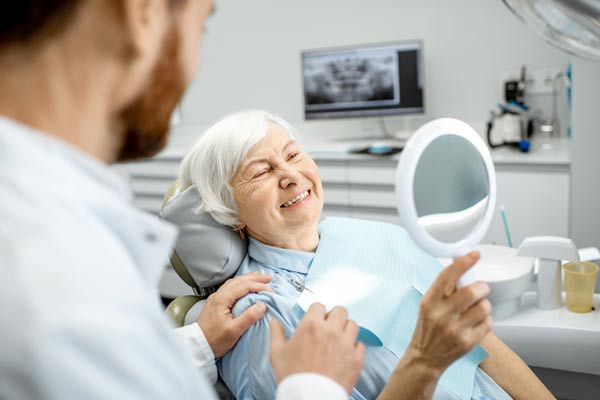 Implant-supported dentures are one option for dental restoration after you have lost your teeth. Also known as snap-in dentures, these are easier to use and function better than traditional dentures. To get snap-in dentures, you will first need to get dental implants which are inserted into your jaw and gums. We provide custom implant-supported dentures at Glen Perio.


Materials

Dental implants are shaped like screws and made of a titanium material. Unfortunately, you will not be a candidate for dental implants if you have a metal allergy. The dentures, themselves, have two separate components. First, the base (gums) is formed with a plastic material. For the teeth, we have a variety of material options available. Glass ionomer, porcelain, and composite resin are great choices if aesthetic appeal is your biggest priority. These dentures have metal clips or wires so that they can attach to the dental implants.


Procedure

In order to customize your dentures, we need to get a dental impression of your teeth. We also provide dental x-rays so that we can check the condition of the jawbone. After we have completed these steps, our lab can craft your dentures.

If our periodontist determines that your jaw cannot support dental implants, we have several treatment options to get you to the point where they are able to support them. A sinus augmentation is used to provide additional bone tissue in the upper jaw. Another option is ridge modification, and this is used to graft bone so that your jawbone can regrow. We also have dental implants that are only inserted into the gum, not the bone. These are less preferable since they are not as sturdy as regular implants.

To begin, our periodontist will make an incision in your gum. They will also need to cut into the bone in order to clear out space for the dental implant. We will reshape and remove tissue as needed. Then, we will place the implant. Once this is placed, our periodontist will suture the incision. This is allowed to heal for a few months so that the implants can fuse together with your bone tissue. We do this so that they are sturdy and will not need adjustment later on.

Once the healing is complete, we can place your dentures. We can provide either removable or fixed dentures. Removable dentures are placed using clips that snap together with the implant. We will explain how this works at your appointment. Fixed dentures are placed using a permanent dental cement, which hardens when we cure it under a special type of light.


Cleaning

Fixed dentures can be cleaned the same way you clean your natural teeth. Brush your teeth twice a day and floss them once a day to maintain oral health. We recommend soft foods for a few days following each procedure. It is normal to feel sensitive for a short time after these procedures.

Removable dentures should be cleaned every day using soap and lukewarm water. Store them in a denture solution or water when you are not wearing them. For additional information about implant-supported dentures, contact Glen Perio at 224-488-3392.