Why Choose A Periodontist?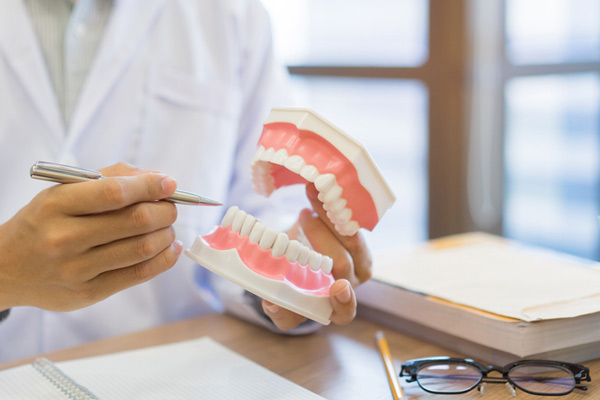 There are many dental health experts that you may choose to see for your periodontitis. However, not everyone is as qualified to treat certain conditions as our periodontist would be. For instance, periodontists have additional training that dentists do not have. They are also able to perform a variety of procedures that dentists are not able to, as well as the procedures that dentists perform on a routine basis. We have a periodontist at Glen Perio that can customize a treatment plan for your periodontitis.


When You Should See a Periodontist

For basic dental concerns, you may choose to see a dentist. However, there are a few signs that would indicate you should come to see our periodontist instead. Changes in facial structure would indicate that the disease has progressed. This includes tissues appearing to sink in, gums receding, changes in the way your teeth fit together, and teeth feeling loose. Other symptoms such as inflammation, pain, chronic bad breath, and bleeding would also tell you that it is time to see our periodontist.


Periodontists vs. Dentists

Periodontists are a type of dentist that have specialized training, meaning they can provide additional services that dentists cannot. Both will complete a Bachelor's and dental degree. In addition, periodontists receive two to three years of training after completing a dental degree. During this training, they learn about surgical and non-surgical procedures, dental implants, and periodontitis treatment. Our periodontist also receives more first-hand experience with these procedures, whereas dentists provide a wider variety of procedures and do not specialize. Because of this, our periodontist is able to treat more complex conditions much more easily.


Procedures Available

Dentists perform basic procedures on a daily basis. These procedures include routine exams, dental x-rays, basic cleaning, cavity fillings, and other minor dental procedures. Periodontists, on the other hand, provide these services as well as a wide array of specialized treatments for periodontitis. For instance, the most basic periodontal treatment includes scaling and root planing. Some dentists can provide this, but, since it is a deeper cleaning than usual, a specialist is recommended. We may also provide gum tissue debridement to remove damaged tissue. Our periodontist typically includes antibiotics in this treatment as well.

More complex treatments may be required. Some of these include flap surgery, tissue grafting, and tissue stimulation treatments. Flap surgery, also known as pocket reduction surgery, is used to clear out the infection from the spaces that form underneath the gumline. Tissue grafting, soft and hard, is used for cases when periodontitis has progressed far enough that it is now destroying tissue in your mouth. Tissue regeneration is sometimes used in combination with grafting but can also be performed on its own. Tissue regeneration is used to stimulate the production of new natural tissue.

There are some other treatments we can provide in addition to periodontitis treatment. For instance, we have dental implants available, which can be used to support various dental restorations. We also perform tooth extractions. Specific equipment is needed to complete these procedures, which we have available at our office. For more information, call Glen Perio at 224-488-3392.